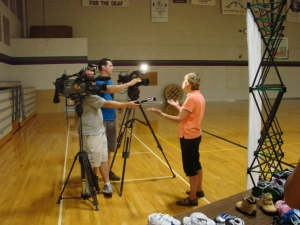 Looking for an experienced guest that uses props and other visuals? Silvana's experience on numerous TV shows lets you relax as she quickly engages your audience with entertaining stories and relevant information. Her most requested topics include:
Baby Boomer? Try Job Shadowing to Find a Job: Silvana describes her experiences job shadowing people in various careers to find her "second career." Many Baby Boomers are looking for fulfilling encore jobs after retiring.
Managing Millennials When They Don't Want to be Managed: Employers today are frustrated when dealing with Millennials who seem to feel entitled to a corner office and high salary. See what Silvana has to say about working with these enthusiastic 20-somethings.
Parenting With More Fun and Less Yelling: Yes, parenting can be stressful, but with a few tips and techniques, parents can see the light-hearted side of raising children.
Submarine Parenting (instead of being a helicopter parent)
When Empty Nesters Fly The Coop. Yes, there is life after kids!
Media Appearances Include:
Fox: Trading Spouses (Only wife that didn't cry on camera during that season!)
Discovery Channel
QVC
The 700 Club
Over 25 local talk show/news interviews
Over 100 radio interviews
Check out the books Silvana has published:
Fun-Filled Parenting: A Guide to Laughing More and Yelling Less
12 Going on 29: Raising Your Tween Daughter (Praeger Publishing)
Every Day A Holiday (Baker Books, 2004)301 Bright Ideas For Busy Kids (Sourcebooks, 2003)
Stuffed Animals From The Ceiling Fan (Baker Books, 2003)
Parent-Tested Ways To Grow Your Child's Confidence (Meadowbrook, 2000)
Wearable Art With Sondra (co-author), (Prima Publishing, 2000)
Craft Fun With Sondra (co-author), (Meadowbrook Press, 1999)
150 Ways to Raise Creative, Confident Kids (Servant, 1997)
Taming the Marketing Jungle (Hara Publishing, 1994)
600 Tips for Early Childhood Directors (Frank Schaeffer Publishing, 1996)140,000 copies sold
Taming the Recreation Jungle (Hara Publishing, 1993)