Looking for someone experienced with the RV lifestyle? Need a speaker or spokesperson who understands what it is like to have the black water tank freeze or knows what happens when you drive off with the awning still out? Silvana has visited hundreds of RV campgrounds across the US and in Europe. Her slide presentation, "What I Learned From Visiting 250 Campgrounds" gives eye opening examples of campgrounds with a cross-section of facilities and activities. She's presented her workshops at numerous state RV Campground conferences as well as ARVC's InSite National conference.
Silvana is the "Traveling RV Mom" for the well-respected website, www.travelingmom.com
Check out her RV related articles on:
http://www.travelingmom.com/author/sclark/
Try An RV!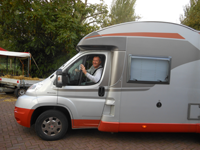 Suggest "RV Camping" to the average mom and she'll likely wrinkle her nose and book a room at the Hilton. Before you make that reservation, consider taking your family on an RV camping experience. I was shocked the first time I stepped inside an RV and saw the granite counter tops, massive storage space and two flat screen TV's. No need to rough it! If you don't own an RV, consider renting one from a company such as El Monte RV. You'll have comfy beds and a kitchen designed to save you money.
Some other advantages of traveling by RV include:
Kids can have more elbow room and sit at a table to play games or color while still strapped into seat belts. More room, less squabbling!
Kids hungry? With a refrigerator full of food, (healthy or otherwise) snacks and meals are always available and at a lower cost than restaurant meals.
Instead of schlepping suitcases into a hotel room every night, all your clothes, stuffed animals and snacks are right inside your RV.
Campgrounds are low-cost places ideal for families to relax and spend time together. Many offer swimming, bike rentals, canoe trips and nature activities. Kids love staying at KOA Kampgrounds where pools and organized activities keep everyone busy. Many KOAs even offer K-9 dog parks for your four footed family members. Try their app to help you select and register at campgrounds across the country. www.koa.com
Still hesitant about camping in an RV? Simply stop by an RV dealer and look inside various models. The king sized beds, modern refrigerators and lights on the ceiling will convince you RV camping is the way to go!