Silvana and her husband may not look like the typical college-aged tour manager, but they have the energy and experience to keep up with any 20-something. Your mobile marketing tour is in capable, professional hands as they drive vehicles, supervise staff, set up displays and handle media interviews. Their experience includes:
Brand Ambassador for AVON
Drove branded Sprinter vans around the US for nine months as a brand ambassador, working with local AVON representatives for a major recruiting effort.
Brand Ambassador/Spokesperson
Spent 19 months living and working from a branded RV for the shoe charity, Soles4Souls. Traveled to 42 states, giving away new shoes to people in need. Handled all scheduling and media opportunities.
Brand Ambassador for AVON Cares
Visited 22 cities, giving away hygiene items to people who survived the tornadoes during the summer of 2011. Lived and worked from an RV.
Brand Ambassador for Christian Relief Agency
Spent 12 months traveling in an RV across the US, raising funds for a non-profit.Handled all scheduling, media and record keeping.
Understanding What Your Mobile Tour Managers Need
Tour account managers meet with clients in air conditioned, technologically connected offices, confirming details of an upcoming mobile marketing tour. Those details are then passed to actual tour managers…who often work in situations that don't match up with written plans. Here are some ways to see what really happens on the road from the perspective of tour managers.
1. Tour managers out in the field don't have the luxury of instant internet, printers and fax machines.
I once got an email on my phone telling me, "Print out this seven page attachment and give it to the city official that is coming by in 15 minutes." Since my vehicle was positioned at the entrance to a park, there were few printers amongst the trees and bushes. Corporate offices are quite different from what many tour mangers experience while set up in large parking lots with their branded vehicles. Some parts of the country still have limited cell reception.
2. Use Google Maps and common sense when planning routes.
Yes, Google Maps tells you it is eleven miles from Los Angeles to Pasadena. Eleven miles? No sweat. That only takes 15 minutes to drive. Anyone in the LA area will laugh and tell you to expect a minimum of an hour to drive those eleven miles at rush hour. Driving eleven miles through small-town America is totally different than driving eleven miles through Washington DC.
3. Give tour mangers some flexibility to add their personal touch to the tour.
My husband and I did a 19 month tour for the shoe charity, Soles4Souls. They gave us complete freedom on how to set up shoe distributions for up to 1000 people. From the experience of actually working with different charities, we knew exactly where to place volunteers, seat customers and even dispose of empty shoe boxes. That freedom gave us control to hold hundreds of successful shoe distributions in 42 states.
4. Everyday tasks take longer when on the road.
Need to do laundry? At home, you simply walk down the hall, toss dirty socks in your washing machine and go back to watching American Idol. Tour mangers required to wash table cloths or banners may find themselves searching for a Laundromat or sharing a washing machine with hotel guests. For tour managers, getting a haircut or even filling a prescription take longer than expected when on the road in unfamiliar locations.
5. Out of sight, out of mind should not apply to motivating your on-the- road staff.
Yes, it sounds glamorous to be traveling across the United States. Truth is, tour managers still want tangible rewards. An occasional bonus is always nice, but other motivators are also appreciated. My husband and I ran a 22 city tour for The Borden Agency, where each stop required us to haul out hundreds of boxes filled with product.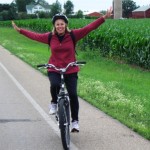 Whenever they sent us a new supply shipment, they included a handwritten note of thanks along with gift cards to restaurants or bookstores. Their appreciation helped keep us going as we lugged boxes in 98 degree heat and miserable humidity. Even a simple phone call thanking your staff for their efforts makes an impact. Just don't conclude the call with, "Oh by the way…can you make sure to turn in your daily attendance sheet by 8:00pm?"
And the last, very best tip for anyone scheduling and organizing mobile marketing tours? Make time in your busy schedule to spend 2-3 days on the road, actually working out in the field. You'll gain a whole new appreciation for what it takes to be a tour manager!